Page 6 - JanJune_2022BiannualRidgefield
P. 6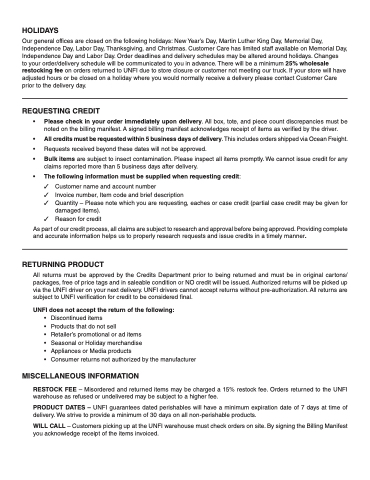 HOLIDAYS
Our general offices are closed on the following holidays: New Year's Day, Martin Luther King Day, Memorial Day, Independence Day, Labor Day, Thanksgiving, and Christmas. Customer Care has limited staff available on Memorial Day, Independence Day and Labor Day. Order deadlines and delivery schedules may be altered around holidays. Changes
to your order/delivery schedule will be communicated to you in advance. There will be a minimum 25% wholesale restocking fee on orders returned to UNFI due to store closure or customer not meeting our truck. If your store will have adjusted hours or be closed on a holiday where you would normally receive a delivery please contact Customer Care prior to the delivery day.
REQUESTING CREDIT
• Please check in your order immediately upon delivery. All box, tote, and piece count discrepancies must be
noted on the billing manifest. A signed billing manifest acknowledges receipt of items as verified by the driver.
• All credits must be requested within 5 business days of delivery. This includes orders shipped via Ocean Freight.
• Requests received beyond these dates will not be approved.
• Bulk items are subject to insect contamination. Please inspect all items promptly. We cannot issue credit for any claims reported more than 5 business days after delivery.
• The following information must be supplied when requesting credit:
✓ Customer name and account number
✓ Invoice number, Item code and brief description
✓ Quantity – Please note which you are requesting, eaches or case credit (partial case credit may be given for
damaged items).
✓ Reason for credit
As part of our credit process, all claims are subject to research and approval before being approved. Providing complete and accurate information helps us to properly research requests and issue credits in a timely manner.
RETURNING PRODUCT
All returns must be approved by the Credits Department prior to being returned and must be in original cartons/ packages, free of price tags and in saleable condition or NO credit will be issued. Authorized returns will be picked up via the UNFI driver on your next delivery. UNFI drivers cannot accept returns without pre-authorization. All returns are subject to UNFI verification for credit to be considered final.
UNFI does not accept the return of the following:
• Discontinued items
• Products that do not sell
• Retailer's promotional or ad items
• Seasonal or Holiday merchandise
• Appliances or Media products
• Consumer returns not authorized by the manufacturer
MISCELLANEOUS INFORMATION
RESTOCK FEE – Misordered and returned items may be charged a 15% restock fee. Orders returned to the UNFI
warehouse as refused or undelivered may be subject to a higher fee.
PRODUCT DATES – UNFI guarantees dated perishables will have a minimum expiration date of 7 days at time of delivery. We strive to provide a minimum of 30 days on all non-perishable products.
WILL CALL – Customers picking up at the UNFI warehouse must check orders on site. By signing the Billing Manifest you acknowledge receipt of the items invoiced.