Page 4 - JanJune_2023BiAnnualRidgefield
P. 4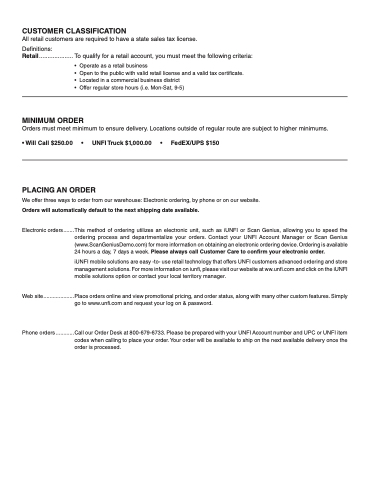 CUSTOMER CLASSIFICATION
All retail customers are required to have a state sales tax license. Definitions:
Retail.................... To qualify for a retail account, you must meet the following criteria:
• Operate as a retail business
• Open to the public with valid retail license and a valid tax certificate. • Located in a commercial business district
• Offer regular store hours (i.e. Mon-Sat, 9-5)
MINIMUM ORDER
Orders must meet minimum to ensure delivery. Locations outside of regular route are subject to higher minimums.
• Will Call $250.00 • UNFI Truck $1,000.00 • FedEX/UPS $150
PLACING AN ORDER
We offer three ways to order from our warehouse: Electronic ordering, by phone or on our website.
Orders will automatically default to the next shipping date available.
Electronic orders.......This method of ordering utilizes an electronic unit, such as iUNFI or Scan Genius, allowing you to speed the ordering process and departmentalize your orders. Contact your UNFI Account Manager or Scan Genius (www.ScanGeniusDemo.com) for more information on obtaining an electronic ordering device. Ordering is available 24 hours a day, 7 days a week. Please always call Customer Care to confirm your electronic order.
iUNFI mobile solutions are easy -to- use retail technology that offers UNFI customers advanced ordering and store management solutions. For more information on iunfi, please visit our website at ww.unfi.com and click on the iUNFI mobile solutions option or contact your local territory manager.
Web site....................Place orders online and view promotional pricing, and order status, along with many other custom features. Simply go to www.unfi.com and request your log on & password.
Phone orders ............Call our Order Desk at 800-679-6733. Please be prepared with your UNFI Account number and UPC or UNFI item codes when calling to place your order.Your order will be available to ship on the next available delivery once the order is processed.