Page 5 - JanJune_2023BiAnnualRidgefield
P. 5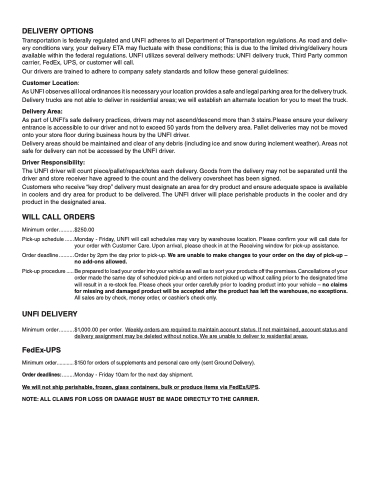 DELIVERY OPTIONS
Transportation is federally regulated and UNFI adheres to all Department of Transportation regulations. As road and deliv- ery conditions vary, your delivery ETA may fluctuate with these conditions; this is due to the limited driving/delivery hours available within the federal regulations. UNFI utilizes several delivery methods: UNFI delivery truck, Third Party common carrier, FedEx, UPS, or customer will call.
Our drivers are trained to adhere to company safety standards and follow these general guidelines:
Customer Location:
As UNFI observes all local ordinances it is necessary your location provides a safe and legal parking area for the delivery truck. Delivery trucks are not able to deliver in residential areas; we will establish an alternate location for you to meet the truck.
Delivery Area:
As part of UNFI's safe delivery practices, drivers may not ascend/descend more than 3 stairs.Please ensure your delivery entrance is accessible to our driver and not to exceed 50 yards from the delivery area. Pallet deliveries may not be moved onto your store floor during business hours by the UNFI driver.
Delivery areas should be maintained and clear of any debris (including ice and snow during inclement weather). Areas not safe for delivery can not be accessed by the UNFI driver.
Driver Responsibility:
The UNFI driver will count piece/pallet/repack/totes each delivery. Goods from the delivery may not be separated until the driver and store receiver have agreed to the count and the delivery coversheet has been signed.
Customers who receive "key drop" delivery must designate an area for dry product and ensure adequate space is available in coolers and dry area for product to be delivered. The UNFI driver will place perishable products in the cooler and dry product in the designated area.
WILL CALL ORDERS
Minimum order..........$250.00
Pick-up schedule ......Monday - Friday, UNFI will call schedules may vary by warehouse location. Please confirm your will call date for your order with Customer Care. Upon arrival, please check in at the Receiving window for pick-up assistance.
Order deadline..........Order by 2pm the day prior to pick-up. We are unable to make changes to your order on the day of pick-up – no add-ons allowed.
Pick-up procedure ..... Be prepared to load your order into your vehicle as well as to sort your products off the premises. Cancellations of your order made the same day of scheduled pick-up and orders not picked up without calling prior to the designated time will result in a re-stock fee. Please check your order carefully prior to loading product into your vehicle – no claims for missing and damaged product will be accepted after the product has left the warehouse, no exceptions. All sales are by check, money order, or cashier's check only.
UNFI DELIVERY
Minimum order..........$1,000.00 per order. Weekly orders are required to maintain account status. If not maintained, account status and delivery assignment may be deleted without notice. We are unable to deliver to residential areas.
FedEx-UPS
Minimum order............ $150 for orders of supplements and personal care only (sent Ground Delivery). Order deadlines:........Monday - Friday 10am for the next day shipment.
We will not ship perishable, frozen, glass containers, bulk or produce items via FedEx/UPS. NOTE: ALL CLAIMS FOR LOSS OR DAMAGE MUST BE MADE DIRECTLY TO THE CARRIER.