Page 4 - JulyDec_2022BiAnnualIowaCity
P. 4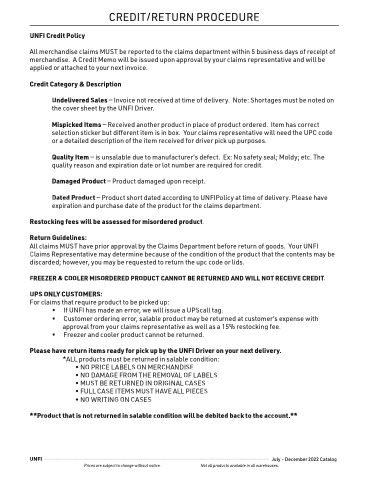 CREDIT/RETURN PROCEDURE
 UNFI Credit Policy
All merchandise claims MUST be reported to the claims department within 5 business days of receipt of merchandise. A Credit Memo will be issued upon approval by your claims representative and will be applied or attached to your next invoice.
Credit Category & Description
Undelivered Sales — Invoice not received at time of delivery. Note: Shortages must be noted on
the cover sheet by the UNFI Driver.
Mispicked Items — Received another product in place of product ordered. Item has correct selection sticker but different item is in box. Your claims representative will need the UPC code or a detailed description of the item received for driver pick up purposes.
Quality Item — is unsalable due to manufacturer's defect. Ex: No safety seal; Moldy; etc. The quality reason and expiration date or lot number are required for credit.
Damaged Product — Product damaged upon receipt.
Dated Product — Product short dated according to UNFI Policy at time of delivery. Please have
expiration and purchase date of the product for the claims department. Restocking fees will be assessed for misordered product.
Return Guidelines:
All claims MUST have prior approval by the Claims Department before return of goods. Your UNFI Claims Representative may determine because of the condition of the product that the contents may be discarded; however, you may be requested to return the upc code or lids.
FREEZER & COOLER MISORDERED PRODUCT CANNOT BE RETURNED AND WILL NOT RECEIVE CREDIT.
UPS ONLY CUSTOMERS:
For claims that require product to be picked up:
• •
•
If UNFI has made an error, we will issue a UPS call tag.
Customer ordering error, salable product may be returned at customer's expense with
approval from your claims representative as well as a 15% restocking fee. Freezer and cooler product cannot be returned.
Please have return items ready for pick up by the UNFI Driver on your next delivery.
*ALL products must be returned in salable condition: • NO PRICE LABELS ON MERCHANDISE
• NO DAMAGE FROM THE REMOVAL OF LABELS • MUST BE RETURNED IN ORIGINAL CASES
• FULL CASE ITEMS MUST HAVE ALL PIECES • NO WRITING ON CASES
**Product that is not returned in salable condition will be debited back to the account.**
UNFI -------------------------------------------------------------------------------------------------------------------------- July - December 2022 Catalog Prices are subject to change without notice. Not all products available in all warehouses.