Page 5 - JulyDec_2022BiAnnualIowaCity
P. 5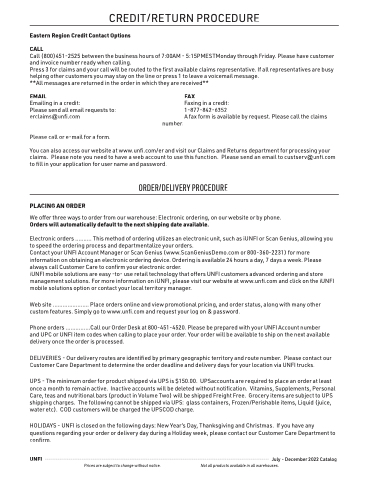 CREDIT/RETURN PROCEDURE
Eastern Region Credit Contact Options
CALL
Call (800)451-2525 between the business hours of 7:00AM - 5:15PM EST Monday through Friday. Please have customer and invoice number ready when calling.
Press 3 for claims and your call will be routed to the first available claims representative. If all representatives are busy helping other customers you may stay on the line or press 1 to leave a voicemail message.
**All messages are returned in the order in which they are received**
 EMAIL
Emailing in a credit:
Please send all email requests to: erclaims@unfi.com
Please call or e-mail for a form.
FAX
Faxing in a credit:
1-877-842-6352
A fax form is available by request. Please call the claims
number.
You can also access our website at www.unfi.com/er and visit our Claims and Returns department for processing your claims. Please note you need to have a web account to use this function. Please send an email to custserv@unfi.com to fill in your application for user name and password.
ORDER/DELIVERY PROCEDURE
PLACING AN ORDER
We offer three ways to order from our warehouse: Electronic ordering, on our website or by phone.
Orders will automatically default to the next shipping date available.
Electronic orders .......... This method of ordering utilizes an electronic unit, such as iUNFI or Scan Genius, allowing you to speed the ordering process and departmentalize your orders.
Contact your UNFI Account Manager or Scan Genius (www.ScanGeniusDemo.com or 800-360-2231) for more information on obtaining an electronic ordering device. Ordering is available 24 hours a day, 7 days a week. Please always call Customer Care to confirm your electronic order.
iUNFI mobile solutions are easy -to- use retail technology that offers UNFI customers advanced ordering and store management solutions. For more information on iUNFI, please visit our website at www.unfi.com and click on the iUNFI mobile solutions option or contact your local territory manager.
Web site ...................... Place orders online and view promotional pricing, and order status, along with many other custom features. Simply go to www.unfi.com and request your log on & password.
Phone orders ...............Call our Order Desk at 800-451-4520. Please be prepared with your UNFI Account number and UPC or UNFI item codes when calling to place your order. Your order will be available to ship on the next available delivery once the order is processed.
DELIVERIES - Our delivery routes are identified by primary geographic territory and route number. Please contact our Customer Care Department to determine the order deadline and delivery days for your location via UNFI trucks.
UPS - The minimum order for product shipped via UPS is $150.00. UPS accounts are required to place an order at least once a month to remain active. Inactive accounts will be deleted without notification. Vitamins, Supplements, Personal Care, teas and nutritional bars (product in Volume Two) will be shipped Freight Free. Grocery items are subject to UPS shipping charges. The following cannot be shipped via UPS: glass containers, Frozen/Perishable items, Liquid (juice, water etc). COD customers will be charged the UPS COD charge.
HOLIDAYS - UNFI is closed on the following days: New Year's Day, Thanksgiving and Christmas. If you have any questions regarding your order or delivery day during a Holiday week, please contact our Customer Care Department to confirm.
UNFI -------------------------------------------------------------------------------------------------------------------------- July - December 2022 Catalog Prices are subject to change without notice. Not all products available in all warehouses.